| | | |
| --- | --- | --- |
| | California - 1st August 2010 | |
Twisties, twisties, Mines Rd, Mt Hamilton, Sunol.
Yay! Sunday, and apart from a couple of cat-sits first thing, we are both free for the rest of the day. Ride south-east was the plan, and we eventually had a superb albeit expensive lunch at a vineyard after ridng some lovely back-roads around Mt Diablo.
Mt Hamilton beckoned, and we attacked the Mines Road with gusto. A small red sports car came up behind, obviously driven by a local, so we let him past straight away - and very useful he was, being our eyes in front on those bends which had little vision ahead.
The Lick observatory looked fascinating - I could spend a day there, but not entirely Kristin's cup of tea, and anyway we had more twisties to immerse ourselves in. However I did spot that Jess's MP3 had now reached the 11,000 mile mark: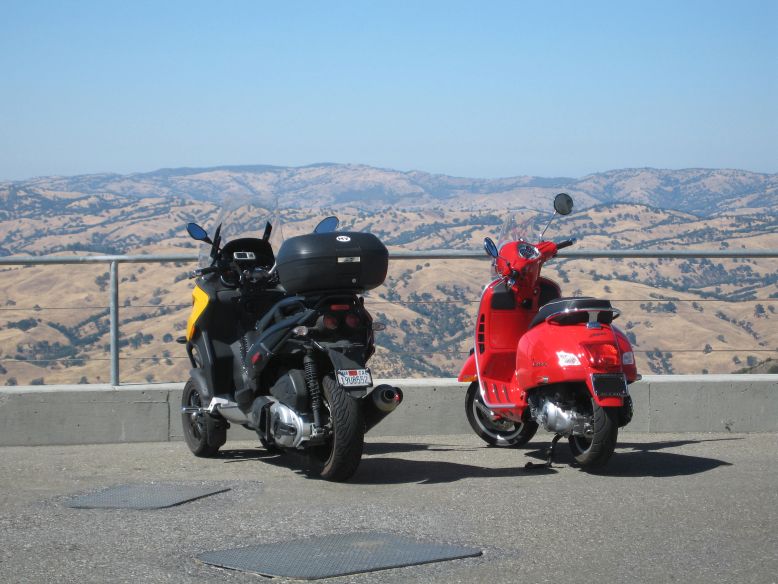 We sailed down the other side - a few dodgy surfaces, but most of the road was just fine. Cars were very good on this leg at letting us get by - thank-you drivers. As we neared San Jose we turned right, and had yet more brilliant roads until we stopped for a rest at Sunol. The cafe was open despite it now being late in the afternoon, and the folk inside were very kind, offering me some yummy conconction of nuts and dried fruit - not at all sweet and sickly as could be imagined, but full of flavour. Home-made on the premises. Sadly the binder was egg, so Kristin had to forgo this treat. The nice woman inside then brought out an obviously just-prepared fruit salad for Kristin, gratis, as compensation.
And then yet more twisties, right up to the last couple of miles into Walnut Creek. We were gagging for beer, so that became our supper!
Of the 193 miles, fully 170 were high-concentration twisty roads. A lovely day, nearly 10 hours, and by the end Kristin was completely confident on the 300, and had also obviously 'got' the basics of the Roadcraft system. Another day never to forget.
Track of the day:
&copy Jim Crowther and Kristin Gallagher 2010